News & Events
CE Casecnan water treatment, back by FG Wilson P900E1

May 2012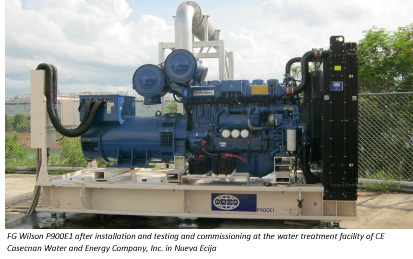 The water treatment facility of CE Casecnan Water and Energy Company, Inc. in Nueva Ecija is now back up by FG Wilson P900E1 diesel generator set as its standby power source.
FG Wilson P900E1 can bring 938 KVA electrical outputs even at variable load in the event of a utility power failure. With this reliable supplementary power supply, CE Casecnan Water and Energy Company, Inc. is confident of continuous operation of its treatment facility especially in the incident of power disruptions, thus customers are assured of consistent supply of clean and usable water.
Meanwhile, another unit is set to deliver next month in its facility in Nueva Vizcaya, the FG Wilson P65-1 that can supply 75 KVA of electrical power delivering the same performance and efficiency.
On top of the efficient running cost of the FG Wilson diesel generator units, PowerAsia, Inc. provides responsive support services to give expert assistance whenever needed.
HEAD OFFICE and SHOWROOM
PowerAsia Equipment Resources, Inc.
2/F The Gallery Building,
80 E. Rodriguez Jr. Ave,
Libis Quezon City, Philippines
Tel: (632) 6371899
Fax: (632) 6356930
Website:
www.powerasia.com.ph
WAREHOUSE
No. 4 Famelara St. (formerly Tuayan St.) Tatalon, Quezon City