News & Events
PAI, CASTLE POWER & LIBRA CELEBRATE 2ND BIRTHDAY BASH OF THE YEAR
- contributed by AD Lepalem (HR Asst.)
Who wouldn't be happy and give a sweet smile in return when someone enthusiastically greets you "happy birthday" on your special day? Our birthday is a nostalgic reminder of the day we were brought into this world and the bright future ahead that we always look forward to… Every year, PAI, together with sister companies Castle Power and Libra, celebrate teammates' birthdays in two (2) batches. January to June birthday celebrators are honored on the first week of July, while TMs whose birthdays fall on July to December are commemorated in December.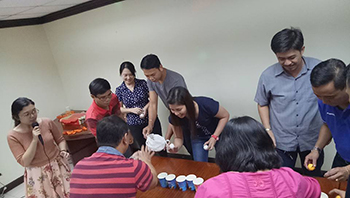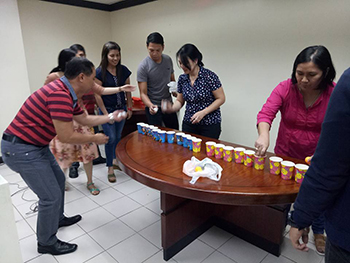 Last 05 December 2016 is one of the most anticipated birthday bash to date and it is not just due to the generous food and drinks, but mainly because of the opportune timing that that day coincided with Ma'am Menette's exact birthday. To make it more striking and memorable, each department from PAI, CP and Libra prepared a surprise gift by way of an audio-visual presentation that showcased their passion and creativity in expressing a "short-and-sweet" birthday greeting. Announcement for this undertaking was done a few weeks prior to the day itself and it truly posed grueling challenges in convening each department's personnel who are preoccupied with work and the pressures of the holiday rush.
On the day itself, it was a harried and busy time for everyone, as HRD tried to strictly follow the checklist of activities and requirements to ensure a smooth program flow. PAI's QMS Manager--Sir Abner, served as the bubbly master of ceremonies (emcee) inside the conference room that provided a conducive venue for a corporate gathering such as this. It started off with an invocation led by Clayton followed by the usual greetings and best wishes to the birthday celebrators. Next in line was the tricky "minute-to-win-it" game that tested the participants' patience and ingenuity to the max and back--and these are the sort of events that really promotes bonding, teamwork and camaraderie amongst TMs.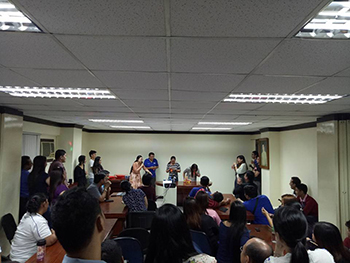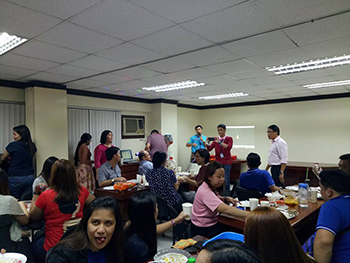 After everyone had their share of the fun, food and festivities, and after the birthday celebrators were gathered in front for picture-taking and the ceremonial blowing of candles, Sir Abner unveiled the much anticipated highlight of the celebration. Everyone's expression was of utter eagerness in witnessing each department's audio-visual birthday greeting. UNI used fireworks display by way of luces to emphasize their birthday greeting with a bang. PSD and SEM both depicted the trending mannequin challenge to pose their favorite characteristics of Ma'am Menette. The joint forces of FIN and QMS expressed their poetic salutation by emulating the challenges encountered at work and how they look up to Ma'am Menette as the servant leader that always cares.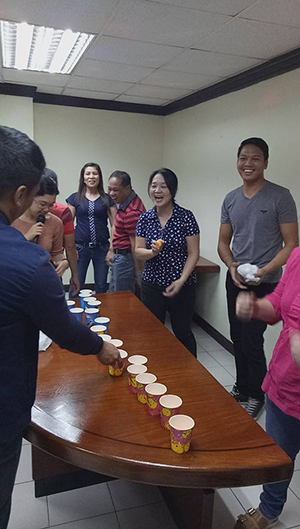 On the other hand, the combined departments of HRD and ADM did an ingenious role-playing with matching upbeat dance steps to focus on Ma'am Menette's leadership attributes. This was followed by the groups of Perkins and Libra who separately greeted Ma'am Menette in a cheerful and buoyant song and dance backdrop. Then GM Naz and GM Nerick of SiTech likewise greeted Ma'am Menette in their own simple-yet-nifty manner of sending their respective messages across. All throughout the AV presentation, Ma'am Menette certainly could not contain her radiant disposition and laughter but what made her teary-eyed with happiness were the greetings from her daughter Nina and son Marc Gabrielle, who is currently studying abroad in Canada.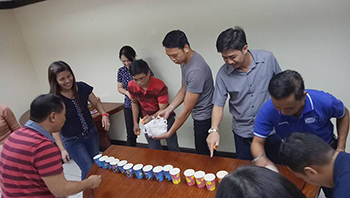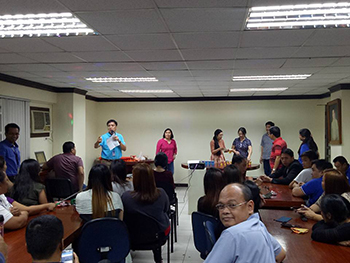 Before the TMs went back to work, Ma'am Menette heartwarmingly acknowledged the effort exerted by everyone as she beamed with pride and sentiment in being a part of this work family. This goes to show that to make one happy, the value of a gift does not merely dwell in its size nor in its price—but in the sincerity and uniqueness of the thought that truly count the most.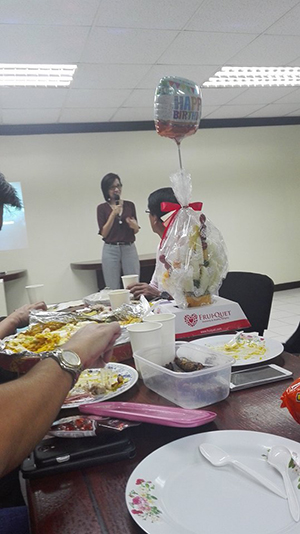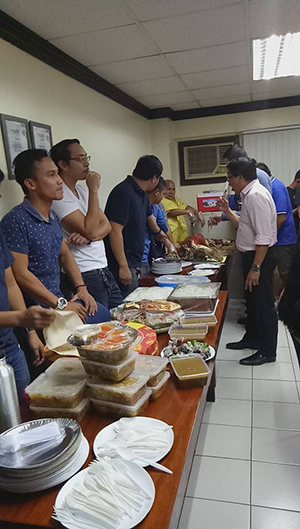 - contributed by AD Lepalem (HR Asst.)
HEAD OFFICE and SHOWROOM
PowerAsia Equipment Resources, Inc.
2/F The Gallery Building,
80 E. Rodriguez Jr. Ave,
Libis Quezon City, Philippines
Tel: (632) 6371899
Fax: (632) 6356930
Website:
www.powerasia.com.ph
WAREHOUSE
No. 4 Famelara St. (formerly Tuayan St.) Tatalon, Quezon City