News & Events
Ateneo enrolls in PAI and received basic training

June 2012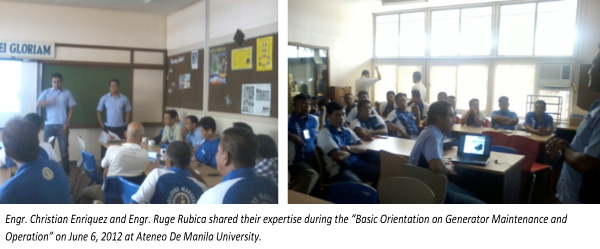 Ateneo de Manila University (ADMU) enrolled its 18 units of FG Wilson diesel generator sets and 7 other brands under PowerAsia, Inc.'s (PAI) Service Contracts and Preventive Maintenance to provide expert backing in servicing and maintenance of generator sets.
ADMU Facilities Management Office now can set its gear and devote its effort on more important activities such as maintenance and upkeep of space, facilities, infrastructures, and as well as environment safety, among others of the campus. PAI shall deploy dedicated technical support team to do regular service visits and regular maintenance to ADMU's generator sets to ensure that it continues to perform to its optimum level and is always ready when needed.
Prior to signing of the contract, PAI conducted training to ADMU Technical Team entitled "Basic Orientation on Generator Maintenance and Operation" on June 6, 2012 at ADMU Campus. The facilitators were able to acquaint everyone about the company, its products and services, and more importantly, we were able to share our knowledge in generator parts, operations, servicing, maintenance, and troubleshooting. The active participants made the training interactive and enjoyable.
PowerAsia, Inc., value relationship with our clients and always more than willing to share our expertise.
HEAD OFFICE and SHOWROOM
PowerAsia Equipment Resources, Inc.
2/F The Gallery Building,
80 E. Rodriguez Jr. Ave,
Libis Quezon City, Philippines
Tel: (632) 6371899
Fax: (632) 6356930
Website:
www.powerasia.com.ph
WAREHOUSE
No. 4 Famelara St. (formerly Tuayan St.) Tatalon, Quezon City