News & Events
BayanTel partnered with PowerAsia to power its communication site

June 2012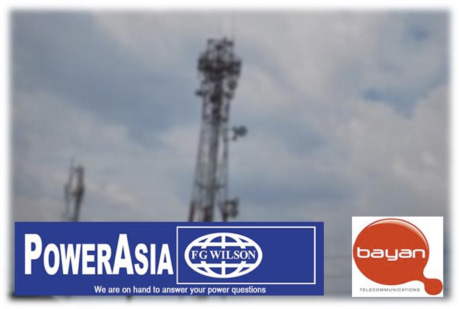 Bayan Telecommunications recently procured 6 units of FG Wilson diesel generator sets from PowerAsia, Inc. (PAI) for standby power support on its cell sites across the country.
With FG Wilson diesel generator sets, Bayan Telecommunications can assure their valued customers of reliable and uninterrupted network coverage, services, and business solutions within the area. The FG Wilson diesel generator sets ranges from 15.5-18.0 KVA which were deployed in North Luzon, South Luzon, and Mindanao can deliver power even in the most remote and harsh telecommunication sites.
PowerAsia, Inc. also offers whole lifecycle support for FG Wilson diesel generator sets, with its pool of trained mobile technical support and wide range of genuine parts, Bayan Telecommunications is assured of responsive and excellent onsite service support.
HEAD OFFICE and SHOWROOM
PowerAsia Equipment Resources, Inc.
2/F The Gallery Building,
80 E. Rodriguez Jr. Ave,
Libis Quezon City, Philippines
Tel: (632) 6371899
Fax: (632) 6356930
Website:
www.powerasia.com.ph
WAREHOUSE
No. 4 Famelara St. (formerly Tuayan St.) Tatalon, Quezon City