News & Events
PAI Receives ISO 9001:2015 Certificate from SGS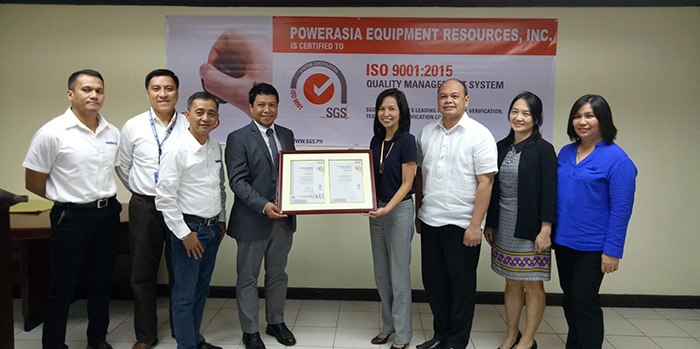 SGS Phils., Inc. Managing Director Ariel Miranda formally turned over the ISO 9001:2015 Certificate to Pres. Menette Lee at PAI head office in Libis, Quezon City last 22 November. The ceremony for PAI's milestone achievement was witnessed by managers and teammates who joined in the modest lunch to mark the occasion. The event was also directed toward instilling in everyone the importance of sustaining the certification and the responsibility inherent in maintaining it.
In his statement, Mr. Ariel Miranda highlighted their roster of clients and warmly welcomed PAI's business partnership, as one of the very first trading firms under SGS to obtain the latest in QMS Certification. He further expounded on the benefits and how companies could better profit from the experience of third-party auditors and from the problems encountered by others. This is primarily because SGS is the world's leading inspection, verification, testing and certification company and they have been recognized as the global benchmark for quality and integrity. Lastly, Mr. Miranda reiterated their commitment in constantly looking beyond their customers' and society's expectations in order to delivery market-leading services and operate in a consistent, reliable and effective manner.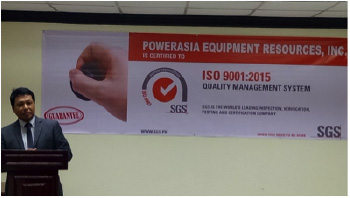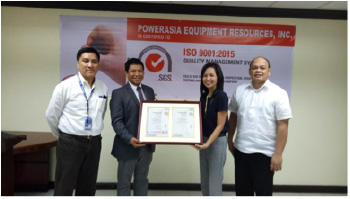 For his part, GM Naz focused on the emphasis given by ISO 9001:2015 about risk-based thinking, the significance of documenting all relevant processes and establishing the interaction of each one. To increase the effectiveness of a quality management system, anticipating and addressing both risks and opportunities is essential. This may arise as a result of a favorable situation allowing PAI to attract customers, develop new products and services, reduce waste or improve productivity. To sum up, GM Naz likewise discussed the importance of capturing metrics for performance measurement as the maturity of PAI's QMS transcends each teammate.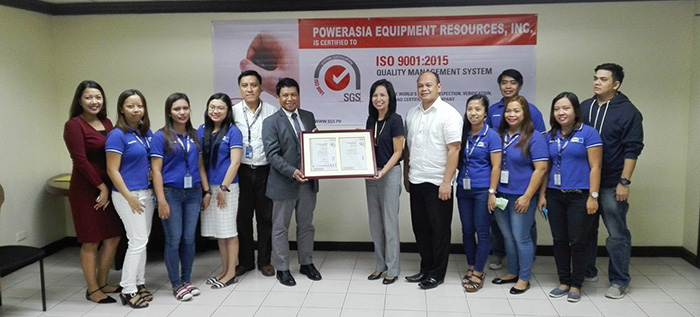 In closing the event, Pres. Menette underscored that this is just the beginning as PAI intends to make 2017 a banner year. She mentioned that a lot has yet to be done for the gains of an ISO certification to be felt and for the business growth to become inclusive in every echelon of the company. For PAI, the implementation of a quality management system is a strategic decision, made to improve its overall performance and to provide a stable core for sustainable development initiatives. Fresh from the exultation of the 2-day leadership and strategic planning seminar at Tagaytay Highlands, Pres. Menette shared her excitement to them. She stated that for the 2017 aspirations to come into fruition, every teammate's contribution is needed vis-à-vis the management team rallying, working, helping and coaching one another.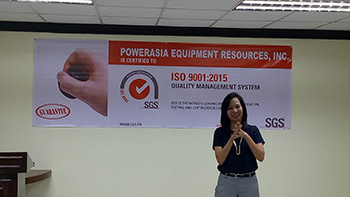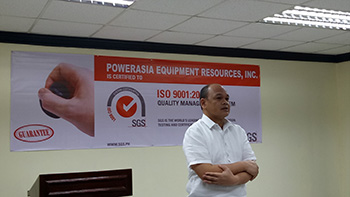 The foundation for PAI's 2017 initiatives has been cast and the calculated steps have slowly been set into motion. The remainder of the year promises to heighten the enthusiasm of PAI teammates. Hope abounds ceaselessly that the ISO 9001:2015 certification awarded by SGS, serve as the tie that binds everyone toward REAL teamwork.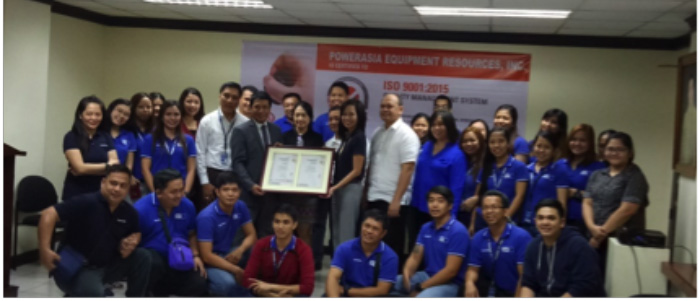 HEAD OFFICE and SHOWROOM
PowerAsia Equipment Resources, Inc.
2/F The Gallery Building,
80 E. Rodriguez Jr. Ave,
Libis Quezon City, Philippines
Tel: (632) 6371899
Fax: (632) 6356930
Website:
www.powerasia.com.ph
WAREHOUSE
No. 4 Famelara St. (formerly Tuayan St.) Tatalon, Quezon City